I don't have a sweet tooth. At all. Indifferent to chocolate. Order cheese and wine for dessert. Eat fruit preserves one or two times a year (with cheese). I love fruits, but prefer them not too sweet. When I bake, people who don't like their desserts too sweet spoon sugar on my tarts. Those who like sweets, don't eat them at all.
Honey is different. The flavor of a good honey is so complex that you are not annoyed by the sweetness, you just enjoy the whole experience. It's as balanced as a well crafted wine.
I actually come from a honey producers family: my dad keeps bees at his country house near Moscow. He usually gets a few liters of honey to give to the family and friends, and some extra to sell. The varieties that he gets are clover, linden, buckwheat, and mixed summer flowers, depending on the season.
Now, where are my dad and his bees, and where am I? No chance to get our family honey, so I get mine from the farmers market.
Our farmers market honey people, Marchall's Farm, move their bees following the flowers, in order to produce single-origin honeys.
Here is what I got in their signature red mesh bag:
- Orange blossom honey - very floral, not too sweet
- California sage honey - delicate, very light herbal taste, not sweet at all
- Wild blackberry - SWEET, complex, fruity
- Star thistle honey - very complex, winey, slightly bitter (pleasant) aftertaste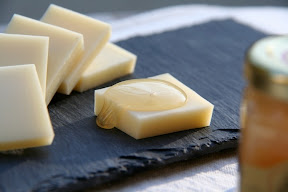 I like my honey served at teatime on a slice of a very strong hard cheese. traveling in Bashkiria as a student, I fell in love with their dense white buckwheat honey, and the way they spread it generously over a thick slice of a Swiss-style local cheese.
Marchall's farms suggest paring their honey with a blue cheese, but I don't want to deal with the mess. So here were are, pairing a French Comte with California sage honey and white tea. You can try this with an off-dry German Riesling too.
Other suggestions for cooking with honey:
- Mix 1 Tbsp honey, 1 Tbsp Olive oil, 1 tsp Worchestershire sauce dash of Tabasco, 1 tsp ground black pepper. Use to marinate beef or chicken for the grill.
- Use a mixture of 2 Tbsp honey, 1 tsp dry mustard, juice of 1 lemon, salt and pepper as a rub for grilled chicken breasts
- For a tasty slaw, dress 2 cups shredded cabbage and 1/2 cup shredded carrot with 1 Tbsp honey, 1 Tbsp olive oil, juice of 1 lemon, salt and pepper; mix well.
- Parboil young carrots, turnips, rutabagas until almost tender. Sauté in butter, glaze with honey and balsamic vinegar
- Use instead of sugar to sweeten Turkish coffee
- Posted using BlogPress from my iPad
Location:San Rafael, CA