These pot-stickers probably came to Siberia from China. Then they spread all over Russia, and became a favorite winter food. If the temperatures stay consistently below freezing for 3-4 month, you can invest into making a few hundreds pot-stickers, freeze them outside, put them in a bag, and hang it outside of the window, to be cooked as needed. They cook from frozen in about ten minutes. They are economical, easy to cook, and oh, so tasty! Shaping them is labor-intensive, but if you live in a region with freezing winters, or in a house with a large freezer, you only need to make them once a year.
In Siberia, they make pelmeni with all types of filling: mushrooms, potatoes, cabbage, grains, fish, meat, poultry, or any combinations. In Moscow, where I grew up, pelmeni are always filled with mixed meats, and seasoned with salt, pepper, and minced onion. The usual filling is half ground beef (not too lean) and half pork. Whenever we had venison, we would always mix ground venison into pelmeni filling (1/3 beef, 1/3 pork, 1/3 venison)
In my family, we would spend the afternoon before the New Years Eve making pelmeni. Mom made the filling, dad rolled out the dough, and we all shaped. The first hundred or so would go on our holiday table, the rest froze on all available surfaces out on the balcony, for winter dinners to come. We would put a whole peppercorn into one of the pot-stickers. The lucky recipient could make a wish that will come true in the new year.
In California, I like to make pelmeni for our Tahoe ski trips. After a day of skiing, they cook fast, and they taste great! Rolling out the dough is physically demanding. My dad (who is very good at it) being 9000 miles away and my boyfriend not being part of the culture, I replace them both with my pasta machine, on it's thinnest, ravioli setting. I then cut out dough circles with a 3-inch round cutter. A glass with a thin edge, or a cut tin can can do fine. Pelmeni should be a little larger than ravioli, but smaller than most Chinese potstickers, about 2 inches across.
Serve pelmeni in beef stock with a little white wine vinegar, straight with butter and
a lot of fresh ground black pepper, with sour cream with minced garlic and scallion, or even with mayonnaise!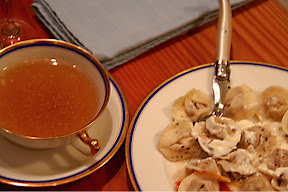 Pelmeni
Makes about 200, serves 10-12
2 cups all-purpose flour
1 tsp salt
1 egg
1/2cup water
for the filling:
1.5 pound mixed ground meats (3/4 pound beef and 3/4 pound pork; or 1/2 pound beef, 1/2 pound pork, 1/2 pound venison)
1 large onion, minced
1 tsp salt
1 (generous) tsp fresh ground black pepper
Make the dough: sift flour into a large bowl. Mix in salt. Make a well in the center. Pour egg and water in. Mix, gradually incorporating the flour from the sides, to make very stiff dough, knead. At first it will look like it's too dry and not coming together. Do not despair, keep kneading. If after five minutes of kneading it's still not coming together, add a few drops of water, repeat (you can skip the gym that day). Cover with plastic, let rest 30 minutes.
Make the filling: combine ground meats, onion, season with salt and pepper, mix well.
On a floured surface, roll out the dough as thin as possible, using a rolling pin and a lot of elbow grease, of a pasta machine. Cut out 3-inch circles. Put together the leftovers, and roll out again.
Place about 1/2 tsp of filling in the center of each circle. Pinch the edges together tight. Connect the corners to make a neat ring. Place on a floured plate or cutting board. Repeat 199 times, or so. Freeze. Put in ziplock bags, keep in the freezer for up to 6 month.
To cook: in a large pan bring water to boil over high heat. Add frozen pelmeni, bring back to boil. Reduce heat to medium, cook until pelmeni float to the surface, 5-10 minutes. Remove with a slotted spoon.
Serve with:
- sour cream and black pepper
- sour cream + minced garlic + minced parsley or scallion
- white wine vinegar and fresh ground black pepper
- beef stock + dash of white wine vinegar
- melted butter + a lot of fresh ground black pepper
- 1 cup sour cream blended with 1 cooked carrot and 2 minced garlic cloves
- (I didn't say this) mayonnaise
- Posted using BlogPress from my iPad