This simple cold soup is the symbol of summer. Its taste depends entirely on the quality of the vegetables. Only at the peak of the summer you can get the super-ripe, sweet, aromatic tomatoes, delicate Persian cucumbers that do not require peeling or seeding - the entire cucumber is delicious, - and juicy, tasty bell peppers.
When I don't have all the ingredients in my garden, I go to the favorite growers at the farmers market, and try to get a taste before I buy. If each vegetable tastes perfect, they will blend into a delicious refreshing bowl of soup.
Gazpacho
Serves 4
1 large or 2 small bell peppers, seeded
2 medium ripe tomatoes
3 Persian cucumbers, unpeeled
1 Maui onion
3-4 clove garlic
2 cups tomato juice
1/2 cup olive oil
Salt, pepper, sherry vinegar - to taste
Basil, parsley, or other herbs, to garnish
Chop all vegetables. Combine with tomato juice. Puree in blender, working in batches; I like to leave some chunks for more interesting texture. Season with olive oil, sherry vinegar, salt and pepper. Refrigerate 2-3 hours. Garnish with herbs and serve.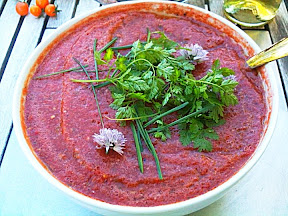 - Posted using BlogPress from my iPad