It's always hard to come back from a vacation, especially one so perfect and food-centered as this one. Here are a few pictures from our South Pacific island feast.
Our destination was Tonga, an island kingdom located between Fiji, Samoa, and Cooks Islands, a short three-hour flight from New Zealand. From Auckland we took an Air New Zealand flight to the Tonga capital Nuku'alofa, then a charter flight in an antique 1944 DC3 airplane to the Vava'u island group, where we chartered a sailing catamaran to sail between the islands.
Picture a perfect tropical island, with a coral reef, a sandy beach, and coconut palms swaying in the warm breeze, surrounded by deep blue waters, full of fish, dolphins, and whales. Now picture sixty of these islands, a few of them with little native villages or fishing resorts, most of them uninhibited, within one-hour sail from each other. This is Vava'u island group.
Tongans love their food, and are very proud of it. The local diet is based on tropical vegetables (taro, sweet potato) and fruits (coconut, pineapple, bananas), with a lot of fresh fish and shellfish, and some pork, with some potatoes, tomatoes, chili peppers, and lettuce thrown in. At the farmers market in the main town Neiafu you get a large basket of coconuts for $7 paangas ($1 paanga roughly equals 60 US cents), and a bunch of bananas or a pile of pineapples for $3 paangas.
Farmers market in Neiafu:
This is what we were using for snacks while sailing. Our regular afternoon after diving and snorkeling snack consisted of New Zealand cheese, salami, and crackers with bananas and pineapple slices, and a drink of an unripe coconut with a shot of rum poured in.
For breakfasts, I made simple omelets with bacon and cheese for those who were hungry in the morning; those who were not subsided on instant porridge, bananas, Turkish coffee and green tea.
Our divers and fishing lines proved to be useless in the South seas: the fish shied away from the divers, and it never got the lure. I had to go fishing at the farmers market. Fortunately, the local fishermen sell them (cheap) at the farmers market: spiny lobsters, barracuda, Pacific snapper, grouper, parrot fish, jacks, etc., come in fresh every morning. We grilled the snapper and trevally on board on our gas grill, and I pan-fried parrot fish fillets with fresh coconut flakes - all delicious, accompanied with a rice and vegetable pilaf, green salad, or boiled potatoes.
Parrot fish:
Cutting up a trevally:
Spiny lobster: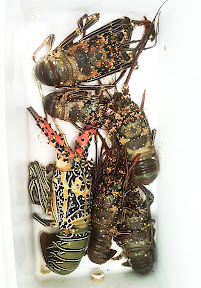 The highlight of the island cuisine is ota ika - raw fish - bite-size pieces of firm white fish, marinated with lemon juice, coconut cream, and vegetables, served with potato fries. This is addictive! Their fish soup is also coconut-based and delicious.
Ota ika:
Fish coconut soup:
Back to New Zealand, it was a completely different food experience. The country's main feature is rolling green hills, where they raise sheep, cows, and deer. New Zealand lamb feeds the world, but it tastes the best in New Zealand in spring. Beef and venison are fresh and tender. Even in the most touristy places you get a tender cut of meat, cooked to perfection and plated beautifully.
Rack of lamb:
Lamb chops: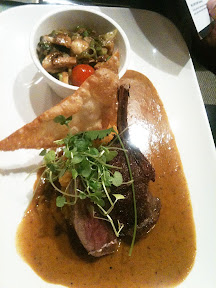 Venison cooked on a hot stone:
Steaks:
Fish and seafood:
In Auckland, fish and seafood are great, and they do mind the presentation.
Street sushi is a Southrn Hermispere exotic, and, surprisingly, they are edible, and tasty.
Breakfasts and snacks:
Our captain's birthday falls on December, 1st. The International Date Line is set up all crooked and twisted in the South Pacific, to make sure that all the island nations are on the same time and date. So, after celebrating our captain's first ever summer birthday in Auckland by bar-hopping, we got on the plane to San Francisco on December, 2nd, and we flew into December, 1st and back into December 2nd, three more times. The turbulences didn't allow for a proper celebration on the plane, but we held tight to our wine glasses, and we toasted every one of our captains birthdays in and out!
- Posted using BlogPress from my iPad