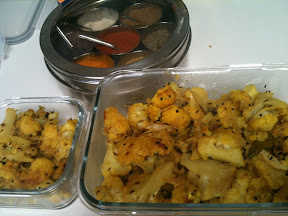 This month I started cooking for one of your typical international Californian families: the husband is from Hungary, the wife from India. Both love their native cuisines, and want to share them at the family dinner table, but with two little kids and two full-time jobs they of course need help cooking.
I have an extensive menu of Eastern-European dishes, including a few traditional Hungarian recipes, so I was able to satisfy the Hungarian side of the family just fine. My ideas of Indian cuisine, on the other hand, are limited to the menus of the local Indian lunch joints, and Californian dishes with "oriental" flavors. Luckily, the visiting Indian grandmother agreed to teach me a few traditional homemade dishes.
Today we had our first hands-on lesson:
Daal
Stir-fried cauliflower
Chicken curry
I was about to get lost in the family's well-organized spice cabinet (that takes up an entire floor-to-ceiling built-in closet), when my teacher showed me a tin box with a few spices that she uses in everyday cooking.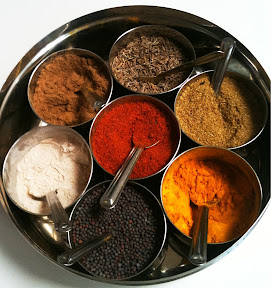 Clockwise from the top: cumin seed, ground cumin, turmeric, black mustard seed, asafetida, ground coriander; center, red chili powder.
Tadka, the traditional flavor base, is made of cumin, mustard and turmeric, cooked in olive oil.
Daal
:
1-1/2 cup yellow lentils
2 Tbsp olive oil
2 tsp black mustard seed
2 tsp cumin seed
2 tsp ground turmeric
8 dried curry leaves
8 dried red chilies, with seeds, broken up
About 2 tsp (1-1/2 inch piece) jaggery (raw sugar)
2 medium tomatoes, chopped
1 small bunch cilantro, chopped, to garnish
Cook lentils in pressure cooker with 3 cups water until very tender.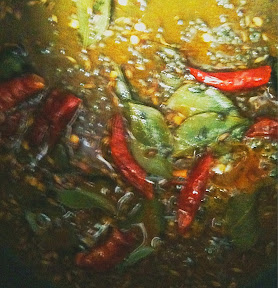 Heat oil in a pot. Add mustard seed, cumin, turmeric, curry leaves, red chilies, cooked lentils. Add water to make soup consistency, season with jaggery. Bring to boil, add chopped tomatoes, bring to boil again, serve, garnished with chopped cilantro.
Stir-fried cauliflower
:
2 Tbsp olive oil
2 tsp black mustard seed
2 tsp cumin seed
2 tsp ground turmeric
1 tsp asafetida
2 cauliflowers, cut into bite-size pieces
4 fresh hot green chili peppers, with seeds
1 tsp salt
Heat oil in a large sauté pan. Add mustard seeds, heat until the seeds start to pop. Add cumin seed, turmeric, asafetida; add cauliflower, chilies, season with salt. Stir for a while, cover, reduce heat to medium-low, cook until soft and dry, stirring occasionally.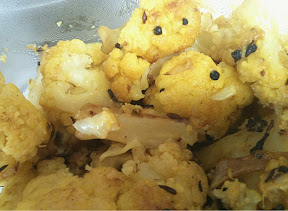 Chicken curry
:
For the curry paste:
1 small bunch cilantro
1 small bunch mint
1 medium onion
4 large garlic cloves
3-inch piece of ginger
1 medium tomato
1 Tbsp black peppercorns
1 Tbsp cumin seed
Roughly chop all paste ingredients, combine in blender, blend into almost smooth paste. Remove paste from blender; rinse the blender container with cold water, save the rinsing water.
2 Tbsp olive oil
4 boneless, skinless chicken breasts, cut into small pieces
1 Tbsp salt, or to taste
1 cup heavy cream
Heat oil in a large pan over medium-high heat. Add curry paste, cook, stirring, until it starts to brown. Add chicken. Cook, stirring, until chicken pieces turn golden on all sides. Add 1-2 cups water from blender, scrape the pan to deglaze. Cook until the liquid thickens, 10-15 minutes. Taste, add salt. Stir in cream, cook 5 more minutes, serve over rice.
Menu today
:
Chicken soup with wild rice and mushrooms
Daal
Stir fried cauliflower
Leek and potato frittata
Garlic green beans
Baked cod with tomatoes and bell peppers
Cannellini beans with kale and tomato
Chicken curry
White rice, flat bread (store-bought)
Cabbage rolls
Braised cabbage with caraway
- Posted using BlogPress from my iPad