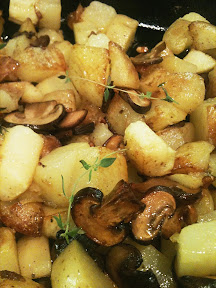 This is the ultimate Russian winter comfort food, and it's very easy to make. The only secret is, the potatoes and the mushrooms have to be cooked separately, then combined just before serving. Why can't we make it a one-skillet meal? Because the mushrooms need salt early, to help them release their water and become crisp; the potatoes, on the other hand, cook best without salt, that will make them break down and lose their shape, if added too early.
Here I made this dish with store-bought crimini mushrooms. Back in Russia we used any type of foraged forest mushrooms, with even more delicious results, or, in the middle of the winter, when no fresh mushrooms were available, we would rinse pickled mushrooms to remove the brine, and then proceed with the recipe.
I like to season my mushrooms with a little thyme, garlic, and fresh ground pepper. Most Russian cooks go for sautéed onions, and leave out the pepper. Try it both ways. Both are good.
Sautéed potatoes with mushrooms
Serves four
For the potatoes:
2 Tbsp olive oil
5 large Yukon Gold potatoes, cut into 1/2-inch cubes
Sea salt
Heat oil in a large cast-iron skillet over medium-high heat. Add the potatoes, cook, stirring occasionally, until almost tender. Season with sea salt, continue cooking until cooked through.
For the mushrooms:
2 Tbsp olive oil
8 oz crimini mushrooms, sliced 1/8 inch thin
Sea salt
Fresh ground black pepper
2 large garlic cloves, minced
5-6 thyme sprigs, leaves picked, stems discarded
Heat oil in a large cast-iron skillet over medium-high heat. Add mushrooms, season generously with salt and pepper. Cook until the mushrooms release the liquid and it evaporates. Add garlic and thyme. Continue cooking until mushrooms and garlic are browned.
Combine potatoes with mushrooms, serve as a side to braised meat, or on their own.
- Posted using BlogPress from my iPad