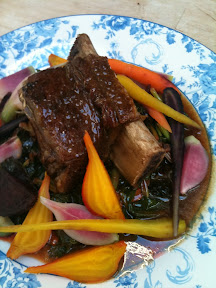 Short days, cold rains, the flu season... This is when we need more vitamins in our diet, to fight off this cold, and more colors on our plates, to add cheer to the long nights in front of the fire. Luckily, here in California, the winter farmers market supplies both.
Winter vegetables come in a palette of soft whites, muted purples, deep greens, and warm yellows; they go well with the gold of roasted chicken and duck, deep browns of braised meats, and the neutral tones of earthy grains. They prefer slow, thoughtful cooking techniques; they are complimented with sturdy winter herbs - thyme, rosemary, sage, oregano, parsley. Winter vegetables are full of vitamins, minerals, and micro-nutrients that help us survive the cold and boost our energy when we need it most.
Beets come in a rainbow of colors: red, pink, golden, white. Slice very young, tender raw beets for salads, both roots and tops. Roast larger beets for salads, soups, or to serve as a side dish: trim the greens, leaving 1 inch attached (save the greens to add to soups or braised greens), wash the beets, place them in an oven-proof dish, add 2-3 Tbsp water, cover with aluminum foil, roast at 400 degrees until tender (pierce with a wooden pick through the foil to check), 30-60 minutes, depending on the size; let cool, peel. The beets are complimented with balsamic vinegar, roasted garlic, truffle oil, thyme.
Broccoli adds emerald green color and a wealth of minerals to the plate. Separate the florets, peel and slice the stems, steam in a steamer or in a microwave until tender, refresh in ice water to stop cooking and to preserve the color. My favorite way to serve the broccoli is as a cold salad with dried cranberries and sliced almonds, with a dressing of almond butter, Tamari soy sauce, and olive oil.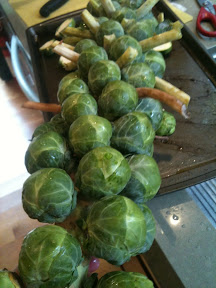 Brussels sprouts like to steam, sauté, or roast. They are complimented by garlic, lemon (grate the rind over them, squeeze the juice), and mild olive oil.
Cabbage comes in green and red, and in plain and crinkled Savoy varieties. The large outer leaves, blanched, make wrappers for cabbage rolls, with rice, vegetables, meats, or anything. The tender center leaves go into soups and sautés. Green cabbages have an affinity with apples, pears, caraway seed, white wine, and onions. All cabbages go beautifully with bacon and smoked meats.
Carrot adds sunny color, sweetness and vitamins to everything it touches. There are white, gold, and purple varieties too. Love it raw!
Cauliflower is not just a white flower. It's also gold, green, and purple flower! All colors do well steamed until almost tender, then sautéed, or prepared ou gratin. Cream of cauliflower soup is a life-saver for people who can't tolerate milk products: the pureed cauliflower supplies the creamy texture, no cream needed.
Celery: the crunchy stalks are a perfect snack, great for dipping; the classic combination of chopped onions, celery, and carrot, sautéed in a mixture of olive oil and butter, can enhance any soup or transform a grain dish. Celery also makes a great soup on it's own. Did I mention Bloody Mary?
Chard is a close relative of beets, and the leaves come in the same palette of jewel colors, and can be used the same ways as the beet tops. Steam, sauté, braise.
Fennel, thinly sliced, adds subtle anise flavor to salads, soups and stews. It's also great prepared au gratin.
Garlic is love, and an indispensable ingredient in almost every savory, and some sweet dishes. Every time I heat up an oven to roast anything, I also toss in a head of garlic, wrapped in aluminum foil. Serve roasted garlic with a cheese and fruit plate, add it to mashed potatoes, spread it on top of steaks, mix it into sauces for roasted meats and vegetables. Large garlic cloves, sliced thin and fried in olive oil, make garlic chips, a nice garnish to meat dishes.
Grapefruit - juice it! This time of the year, we need tons of vitamin C, and the grapefruit delivers it, together with the tangy and pleasantly bitter flavor, and a wonderful aroma. Like most citrus fruits, it's a natural antidepressant.
Kale is a leafy cabbage, and it works well in the same types of preparations. I love to use kale leaves to wrap rice, vegetables, and meats, to make kale rolls. I also like it braised with onion, bacon, and white wine. Black Tuscan kale, aka Dino kale, aka "the favorite", is the darkest of them all, and has the deepest flavor and the highest vitamin content. It is friends with white beans, tomatoes, onions and garlic.
Leek, a mild, subtle green onion, works well in delicate soups. Also, try browning it in butter, than braising it with white wine and shallots, low and slow, until it's melting tender. Addictive. The white part is to eat; I use the green part to flavor stocks.
Lemon, my second main staple after garlic, is indispensable with fish and shellfish; it takes any green vegetable dish to the next level (think garlic and lemon green beans, or Meyer lemon roasted Brussels sprouts), and it's one of the best flavorings for a roasted chicken.
Mandarin: eat it out of hand, or add it to a green salad.
Onion, you already know... I like to marinate thin slices of red onion in 1 part sherry vinegar, 3 parts boiling water, with salt, sugar, and spices (whatever I'm in a mood for; say, allspice, cloves and cinnamon), to top burgers
Parsley root adds deeper, earthier flavor than parsley leaves to soups and stocks. My grandma always used the whole parsley plant, tops and roots, to make a soup. I like it her way. The root also roasts well, and is a nice, flavorful addition to roasted root vegetables.
Parsnip used to be a European staple food, before the potatoes arrived. It still mashes well, and a combination of mashed parsnips and potatoes is even better.
Potato. They say that the classic chefs toque has 101 pleats that represent 101 potato dishes that the chef knows how to make. I'm not there yet: I routinely make about 40 potato dishes. But my toque only has 17 pleats! I need a new toque. My latest favorite potato dish is smashed potatoes with garlic and herbs: boil gold, red, and purple potatoes until tender; let cool; mince garlic, thyme, rosemary, and parsley with some sea salt; spread the herb mixture on the cutting board; with the palm of your hand, smash the potatoes into the herb mixture; heat 1 Tbsp olive oil and 1 Tbsp butter in a large pan over medium heat; transfer smashed potatoes to the pan, cook until fragrant and golden, turning once.
Radish: winter radishes have thick skins and strong flavors. I like to peel them and cook them. Black Spanish and Watermelon radishes are great roasted.
Rutabaga: the big gentle "Swede" is sweet, and is at it's best roasted, or as a puree.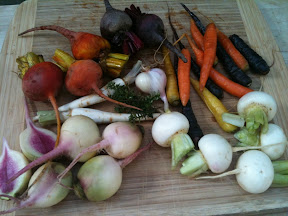 Turnip is sweet and crunchy. Peel it and roast it, boil it, or sauté it, then glaze it with honey and apple juice, balsamic vinegar, or soy sauce.
- Posted using BlogPress from my iPad