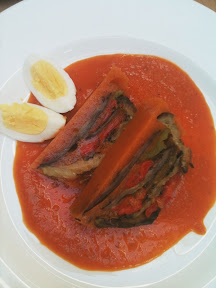 Good bye, summer!
They are probably the last ones of the season, and I'll miss them terribly. But at this weeks farmers market an almost six-pound bag of slightly overripe organic heirloom tomatoes was $5, and they were of absolutely beautiful, sunny orange and red varieties. I had to take them home, and now everything I eat has tomato sauce on it. I also put away a couple of bags of tomato confit in the freezer for later.
Tomato confit
Makes a lot
1/2 cup olive oil
1 large onion, thinly sliced
10 cloves garlic, peeled
5 sprigs oregano
5 sprigs thyme
5 pounds ripe (or slightly overripe, undamaged) tomatoes, or as many as you can fit in your roasting pan, cored
Salt, pepper, red pepper flakes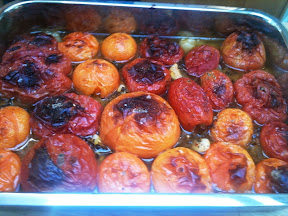 Preheat oven to 400 degrees.
Cover the bottom of a roasting pan with olive oil, spread onion, garlic, and herbs in the pan. Place tomatoes on top of onion mixture, stem side down, fitting them close together. Season with salt, black pepper, and red pepper flakes. Bake about one hour, or until tomatoes char on top and blister. Let cool a little. Remove oregano and thyme. Puree vegetables in blender, working in batches, adding liquid from the bottom of the pan as needed. Store in a refrigerator, or freeze in locking bags or in ice cube trays. Use on pastas, eggs, beans, thin with stock to make tomato soup, braise fish fillets in it, or make my simple version of a vegetable terrine, while eggplants and bell peppers are still in season, and the weather is grill-friendly.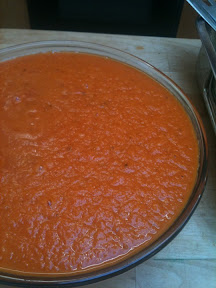 Terrine of grilled eggplant and fire-roasted peppers with tomato confit
Makes 1 4-cup container
2 bell peppers
3 small Italian eggplants
Olive oil for grilling
Salt, pepper
2 cups tomato confit
2 bags unflavored gelatin
Preheat a gas or charcoal grill. Place peppers on the hottest part of the grill, char on all sides, turning occasionally, until almost all the skin blackens. Place in a covered container and leave until cool enough to handle.
Slice eggplants lengthwise 1/4 inch thick. Brush with olive oil, season generously with salt and pepper. Remember that the vegetables will be served cold, so stronger seasoning will help them shine. Grill, turning once or twice, until soft and nice grill marks are created.
When peppers are cool enough to handle, remove the skins - they should slide off easily - and cores and seeds. Work over a bowl to catch the juices. Slice peppers lengthwise.
Line 4-cup Pyrex container, loaf pan, or terrine with plastic wrap. Put a layer of eggplant slices on the bottom, with the best grill marks facing down - this will be the top of the finished terrine. Top with a layer of peppers. Repeat, finishing with a layer of eggplant, with the best grill marks facing up, in case you decide to serve the terrine in the mold.
Divide tomato confit into two roughly equal portions. Bring one to almost boil, add any pepper juices to it. Sprinkle gelatin on cool confit, let sit two minutes. Add hot confit, mix well. Pour tomato-gelatin mixture over the vegetables in the mold. Pierce in a few places with a bamboo skewer, to let the tomato flow under and around the vegetables. Cover and refrigerate overnight.
Turn the terrine over to a cold plate, remove the mold and plastic, slice to show the colorful layers, and serve with more tomato confit, if desired.
- Posted using BlogPress from my iPad
Location:San Rafael, CA