Here is another Russian cold-weather favorite, fish selyanka. Russia's beloved sturgeon and pickled vegetables come together in a tangy, rich, comforting soup, layered with subtle flavors.
The variations are as many as there are cooks. One version uses rinsed, chopped sauerkraut in addition to pickles, olives, and capers. In another version crayfish or shrimp shells are added to the stock, and cooked crayfish or shrimp tails are used to garnish the finished dish.
The rich fish stock for this soup can be made with any non-oily mild tasting inexpensive white fish, or with sturgeon heads and trimmings. Fatty fishes would add extra heaviness and too strong flavors to the stock, and should be avoided.
Fish that work well:
Perch
Ruffe
Striped bass
Snapper
Sturgeon heads
Fish that don't work:
Salmon
Tuna
Sea bass
Mackerel
Sardines
If using small fish, ask the fishmonger to scale and gut it, but leave the heads and tails on - they contribute to the stock. After making the stock the fish is usually discarded. I was making mine with white perch, and the little sweet fishes from the stock actually made a very good snack; just have to be careful about the bones - they are numerous and tiny.
Fish stock is different from meat and chicken stocks because it cooks very fast. If you put the aromatic vegetables in it whole, they will just begin cooking by the time the fish is completely spent. So, to get the most out of the vegetables, we'll chop them into large chunks.
Fish selyanka
Serves 4
For the stock:
1-1/2 lb small fish or fish heads and trimmings
1 yellow onion, chopped
2 carrots, chopped
2 celery sticks, chopped
1 whole parsley, with root, or 1 chopped parsnip and 1 small bunch of parsley leaves
1 cup white wine
Water to cover
1 bay leaf
10 black peppercorns
Place fish, onion, carrots, celery, parsley and parsnip into a pot. They should fit relatively tight. Pour in white wine and water to cover. Bring to a boil over medium-high heat. Reduce the heat to achieve slow even simmer. Skim the stock, add bay leaf and black peppercorns. Simmer, uncovered, for 30 minutes. Remove from heat, strain stock through a fine strainer into a clean pot. Discard the vegetables and fish (or, if the fish looks good, sprinkle it with sea salt and enjoy).
For the selyanka:
1 Tbsp olive oil
1 Tbsp butter
1 yellow onion, diced
2 Tbsp tomato paste
1 lb sturgeon, cut into four portions, skin and cartilage removed
20 olives, pitted and sliced
3 large kosher pickles, sliced
2 Tbsp capers, rinsed
1/2 cup marinated mushrooms (optional)
Salt, pepper
Lemon slices, chopped parsley (for serving)
Heat oil and butter in a sauté pan over medium heat. Sauté onions, stirring, until soft and beginning to turn color, 5-7 minutes. Add tomato paste, sauté 5 minutes more. Add 1 cup fish stock, stir well.
Bring 3 cups of stock to a boil. Add sturgeon, return to boil, reduce heat, simmer until sturgeon is cooked through, about 5 minutes. Add onion-tomato mixture, olives, pickles, capers, mushrooms (if using). Heat through. Adjust seasoning. Depending on your ingredients, you may or may not need to add salt. Serve garnished with lemon slices and chopped parsley.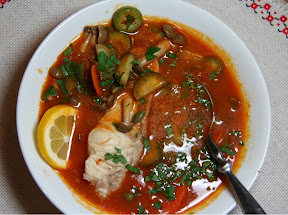 - Posted using BlogPress from my iPad
Location:San Rafael, CA