Fruit: Black Mission figs
Cheese: Chevre rolled in fine herbs
Wine: Beringer Knights Valley Alluvium Blanc 2008
Summer, I'll miss you! Long sunny days. The pool. Grilling in the park. Sitting outside on a warm evening, with the stars above me and a glass of chilled Sauvignon Blanc in front of me. Heirloom tomatoes. Bell peppers. Spot prawns with mango salsa. Peaches, nectarines, pears, melons. I'll even miss the zucchinis, no matter how tired of them I feel now. But most of all I'll miss the figs.
You just cannot get figs out of season: they have to be picked very ripe, they don't keep, and they don't travel. The season is short, and it is now.
Like all fruits, the only food created by the nature that was designed to be eaten, figs are great when you just eat them out of the basket. However, they really shine paired with cheese and wine.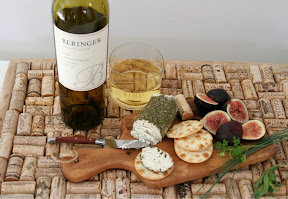 I have selected Beringer Alluvium Blanc for it's fruitiness and chewy texture, not unlike my figs. The wine is deep golden color, it smells of exotic flowers and sweet citrus, and the taste is lush and tropical. And it has a hint of fig! Composed mostly of Sauvignon Blanc and Semillion grapes and aged in oak, it has a creamy start and a long, spicy and herbal aftertaste.
A soft goat cheese is a natural partner for the figs. Usually, I don't like any flavorings on my cheese, but for this pairing I picked a Chevre rolled in fine herbs, to honor the herbal character of the Sauvignon Blanc in the wine. And the wine supports it perfectly!
- Posted using BlogPress from my iPad
Location:San Rafael, CA